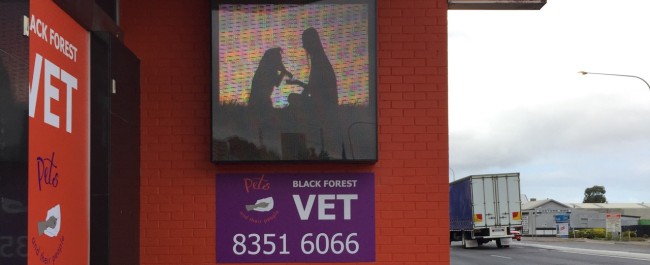 New signage for prominent Adelaide Vet
New Signage lifts pet awareness.
iCatching Signs has had the recent pleasure of working with one of Adelaide's prominent veterinary groups. Vet Group – Pets and Their People, have in recent times been gradually updating their signage at all three surgery's around Adelaide. iCatching Signs worked with their Black Forest team recently to transform their Surgery – be sure to look at the before and after shots below.
The project included updating of the following items, window graphics, light box replacement, wayfinding signage and more.
All artwork and sign layout was created by iCatching Signs also.
In addition to the bold signs installed, Principal Vet Alan Dalgarno also decided to install a digital LED Screen to lift pet awareness to the front of their premise.
To view more examples of shop front installations of iCatching Signs please visit http://www.icatchingsigns.com.au/banners-and-displays/shop-fronts/