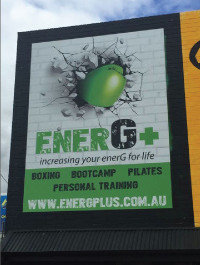 New signs provide Punch!
New Signs for Energ+
Energ+ one of Adelaide's newest boutique fitness studio's, recently enlisted iCatching Signs with promoting their new location at O'Halloran Hill.
The project included new roof top signs, window frosting, wind flags, and promotional gear (towels, drink bottles, enviro bags, clothing and key tags).
The most prominent feature that grabs your attention would have to be the large 3 metre by 3 metre sign out on the front of the studio. This sign is made from aluminium composite panel which are two flat sheets that consist of a Polyethylene core bonded between two sheets of Aluminium Foil with a polyester surface treatment suitable for digital and screen printing. Aluminium composite panel is very rigid, strong and lightweight and can be widely used for several signage applications. iCatching Signs unlike some other signage providers has the ability to print directly onto the panel itself which provides a crisp end product.
For more information regarding signage installation for your shop front visit: