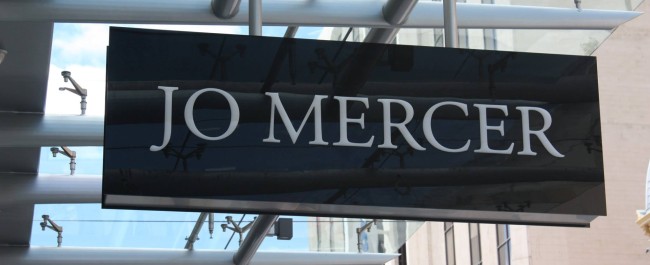 New Light boxes for Rundle Mall icon
iCatching Signs has recently had the pleasure of working with the developers at Adelaide Central Plaza in Adelaide's iconic Rundle Mall precinct on the installation of some new light boxes.
The job saw iCatching signs involved in all aspects of the planning and development of 6 stunning light boxes. The light boxes now are a key feature in Rundle Mall and display world class brands such as Calibre, Cue, Jo Mercer and Veronika Maine.
iCatching Signs has worked with Built constructions on a number of projects including these custom light boxes. A brief was given by architects and following a number of meetings iCatching Signs was able to come up with a working concept that was able to impress all parties.
The stunning visual pieces are made up with a power coated aluminium frame, with opal acrylic faces with each individual brand name / logo laser cut out of the black acrylic face and reinserted with a white acrylic to give it that 3D effect.
"We threw out a tough challenge to iCatching Signs and they were able to deliver on time and as per the brief. The quality of light boxes provided for the Adelaide Central Plaza were spot on. They were flexible throughout the 4 month project and always willing to offer their expertise". 
Next time you visit Rundle Mall (near the malls ball) be sure to have a look!
For more information on the design and fabrication of light boxes please visit http://www.icatchingsigns.com.au/banners-and-displays/fabricated-3d/